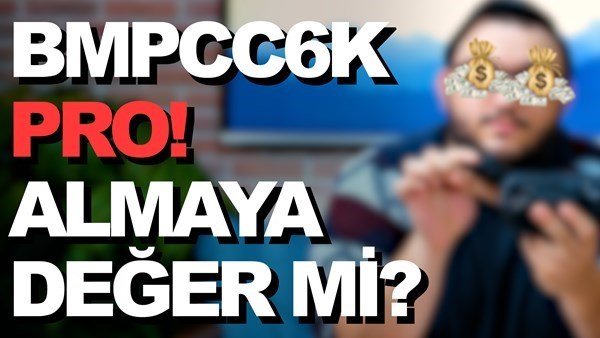 Turkey's leaders are doing Technology Hardware News Portal Pro Camera on the Blackmagic Design CC6K speaks and comments. Do not forget to read our news article in Hardware News.
Today, camera technologies are advancing at an incredible speed and accelerating to an almost untraceable level.
We tried to explain these products as much as we could and give information about the business branch for you.
At first glance, we see that the electronic viewfinder support is eye-catching in the BMPCC6K model, but we see that the device is not only expanded and a little fat, but do not worry, it still continues to be in a compact form.
The screen can now be moved, in previous versions Tilta etc. You could also bring this feature to the 4K and 6K models with the expansion kits made by the brands, but now I think that it will please the users with this feature.
The screen supports HDR as well as 1500nits brightness, which means that in sunny weather, when you can't find an external monitor and shade, the screen will show (almost) every detail and brightness won't be a problem for you.
The BMPCC6KPRO has a dynamic range of 13+ Steps, like other models, and can capture 12 Bit 4: 4: 4 Chroma downsampled RAW shots with the BRAW (Blackmagic Raw) Codec.
You can get beautiful images with BRAW 5.1 compression (compression ratios such as 3.1, 5.1, 8.1, 13.1 are also available) personally my preferred shooting format and it really gives you a high level of flexibility in Post Production.
Unlike its predecessors, the device uses a NP570 battery (previous models used LPE6 Canon), which allows us to shoot for longer periods of time.
Finally, the ND filters are placed in front of the Sensor, and the presence of ND Filters is one of the indicators that the device deserves the Pro jewelry, plus these filters have been measured by Blackmagic Design and are designed to be compatible with the Color Science of these cameras.
Of course, if you ask my opinion, ND filters should now be electronic, but I understand that they are not preferred because of their price.
I have used Blackmagic Pocket Cinema Camera 4K and 6K products (over 100 Hours) before, assuming that we bring the features brought to the previous versions with the expansion kit, even if I do not use the Pro model, the 6K Pro really saves its price, no need to discuss its performance (at its own price) and I would like to state that along with these features, he received the Price / Performance award from me.
As I said in the video, this is not a camera recommendation, what kind of camera you want to have is impressive here, so you need to do a good research when choosing a camera.
What are your opinions, please do not forget to share with us in the comments!
Thanks for watching.